Embracing the essence of joy and freedom with 'Bloom on Equator'.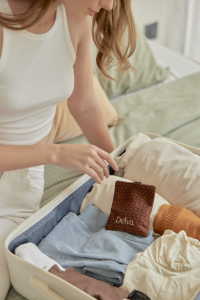 Taking 'Bloom on Equator' on every journey; where luxury meets adventure.
Deiva releases 'Bloom on Equator', a fragrance inspired by the Bird of Paradise that portrays 'Colors of Life'
Whispers of joy, freedom's song,
Bloom on Equator carries it along,
In its embrace, memories lifelong."
— Deiva
NYC, NEW YORK, UNITED STATES, September 22, 2023/EINPresswire.com/ — In recognition of nature's vast and varied aromatic offerings, Deiva releases its latest fragrance, 'Bloom on Equator'. This particular scent draws deep inspiration from the enigmatic Bird of Paradise, a tropical flower that resonates with the essence of freedom and joy. With its vibrant petals and captivating aura, the Bird of Paradise symbolizes an unparalleled tropical delight – an essence captured in 'Bloom on Equator'.
The 'Colors of Life' campaign, accompanying the fragrance's launch portrays the myriad hues of life, each shade representing a unique emotion, experience, or memory. This campaign is a vivid reminder of nature's lush and vibrant palette, with colors that evoke feelings, tell stories, and rekindle memories.
Diving into the scent profile of 'Bloom on Equator', the composition is a reflection of careful selection and blending. Starting notes introduce green tea's aroma followed by the fruity undertones of berries. As the fragrance develops, peppermint emerges, leading to deeper notes of rose and a hint of white musk. Together, they form a harmonious fragrance journey.
At the heart of Deiva's operations is a commitment to sustainability. The brand honors Southeast Asian craftsmanship, traditions that have been passed down through generations. Every ingredient used is a testament to the brand's dedication to sustainability. From sourcing materials to the final product, the emphasis is on environmental friendliness and sustainability. Furthermore, Deiva's unwavering dedication to crafting products suitable for kids and pets cater to the needs of contemporary households and their varied needs.
While the fragrance itself is an artwork, Deiva also prioritizes the functionality of its products. Their scented sachets, designed for versatility, are fit for diverse spaces including closets, bathrooms, drawers, cars, and suitcases.
The introduction of 'Bloom on Equator' is a new chapter in Deiva's ongoing journey. A journey characterized by exploration, innovation, and an undying commitment to the intricate and timeless art of fragrance-making.

Media Contact:

Eve Thantongdhamm, Deiva Team

Email: [email protected]

Phone: +1-585-562-9528

Website: https://deivastore.com

About Deiva:

Deiva is a luxury sustainable home and car fragrance brand that draws inspiration from Southeast Asian craftsmanship with a mission to offer a harmonious blend of luxury, sophistication, and conscious living. Its non-toxic fragrances are carefully blended to create an unforgettable sensory journey, evoking cherished memories and crafting a delightful ambiance. With a strong commitment to kid-friendly, pet-friendly, and eco-conscious practices, Deiva prioritizes the well-being of users and their love ones. Deiva believes in the transformative power of fragrances, striving to infuse every moment with a touch of luxury and sophistication.
Eve Thantongdhamm
Deiva
[email protected]
Visit us on social media:
Facebook
Instagram
Other


Originally published at https://www.einpresswire.com/article/656407796/deiva-announces-new-fragrance-bloom-on-equator
The post Deiva Announces New Fragrance 'Bloom on Equator' first appeared on Beauty Ring Magazine.