Before & After a instant nose job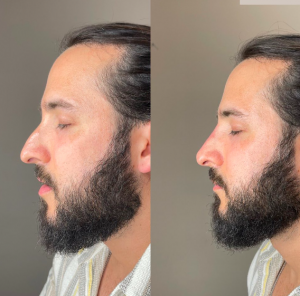 Before & After performed on a male nose
BOCA RATON, FL, UNITED STATES, May 11, 2023/EINPresswire.com/ — The non surgical nose job, also known as a liquid or instant nose job is gaining mainstream popularity. Unlike rhinoplasties, which can be costly and invasive, involve incisions, anesthesia, and a long recovery period, liquid nose jobs use cosmetic injectables like dermal fillers to reshape the nose without any downtime. But before considering this procedure, there are a few things to know.
Board certified Nurse Ilana Brit Mechoullam RN, AGNP says the liquid nose job is so popular that she's booked solid 6 months in advance and that one reason for its popularity is that the tweakment requires zero downtime and is safer than going under the knife. In fact statistics show that the majority of people are left unsatisfied by the results of traditional nose jobs, with celebrities such as Bella Hadid and Jennifer Grey both expressing regret at getting the surgery done.
But how does a liquid nose job work? The procedure involves injecting dermal fillers into specific areas of the nose to reshape it. It's a relatively quick and painless procedure that can be completed in under an hour. Ilana says using her signature technique she is able to smooth bumps, fix crooked bridges, wide noses, flat noses or aesthetic issues with the nostril tips to create symmetry and harmony between the features of the face.
During the last six years Ilana has performed over 5,000 liquid nose jobs. Known as "The Nose Nurse" for her exceptional instant nose jobs, Ilana has amassed a cult following of fans on social media with her incredible transformations. Ilana got into the field herself after a failed rhinoplasty and years of being bullied for her misshapen nose. After graduating with a Master of Science in Nursing from Duke University, she further honed her skills working with one of Manhattan's top plastic surgeons for nearly a decade before starting her own clinic, Peace.Love.Med. Aesthetic Rejuvenation in Boca Raton, Florida. Ilana stresses one of the most important things is choosing a medical spa or office where you feel comfortable and truly heard. Not your typical clinical medical spa, her luxurious space is a safe haven designed to remove any intimidation or fears surrounding the procedure and make guests feel relaxed and confident.
As with any cosmetic procedure, it's important to do your research and choose a qualified and experienced professional to perform the procedure. And remember, a liquid nose job may not be suitable for everyone, so be sure to discuss all your options with a qualified professional before making a decision. For more information please visit https://peacelovemed.com or check out more before and afters on @thenosenurse.
Nic Bryant
Lunch Consulting
[email protected]
Visit us on social media:
Instagram
TikTok


Originally published at https://www.einpresswire.com/article/632342168/instant-nose-jobs-are-gaining-popularity-here-s-everything-to-know
The post Instant Nose Jobs are Gaining Popularity – Here's Everything To Know first appeared on Beauty Ring Magazine.