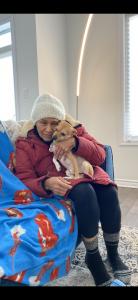 Call Pet Success to get your dog back from the OHS. You don't have to grieve alone.
Pet Success Rehome Your Pet insures that Pets are trained, loved, supported and ready for their Forever Home
Pet Success Ottawa & Pet Success Toronto come together to give Pet Service workers free pet food on May 1st
Pet Success values every person who crosses our path. Recently the OHS took an 83 year old senior's service dog. We hired lawyers to get her pet back for her. Pet service workers receive pet food also"
— Allan Morgan
TORONTO, ONTARIO , CANADAX, April 25, 2023/EINPresswire.com/ — Pet Success Toronto and Pet Success Ottawa come together on Pet Success Happy Day to give Pet Success workers free pet food on May 1st
Pet Success workers love pets so much, they feel each dog's emotion and give their all to make pets and their owners happy. It's a wonderful pet community with a high transition and burn out rate with pet workers often retiring to look after the three to five dogs they have adopted from clients returning to work, etc.
Pet Success works hard to make their work environments relaxing with lots of plants, smiles, classical music, big comfy chairs for staff and clients abc spacious training areas with green turf.
On May 1st, Pet Success Happy Day, Pet Success workers from all stores everywhere, not just Pet Success team members will receive a free bag of pet food to help them out. It's Pet Success Ottawa's hope that Pet service workers use that money for a special and memorable treat for themselves.
Pet Success is a place that puts Love and Human Kindness first, but Pet Success will always stand up to protect vulnerable pets, seniors, those suffering from challenges and the vulnerable in society. Pet Success therapy dogs and Pet Success service dogs are always available to provide love, comfort and support to everyone who needs a hug.
Happy Pet Success' Pet Workers' Appreciation Day. Call Pet Success at 613 710 6688 to reserve the free bag of pet food on May 1st and thanks for all you do. Join us for Pet Success Pet Workers free luncheon on July 9, 2023.
Allan Morgan
Pet Success
+1 613-710-6688
email us here


Originally published at https://www.einpresswire.com/article/629952398/pet-success-ottawa-pet-success-toronto-gives-free-dog-food-every-may-1st-to-pet-service-workers-students
The post Pet Success Ottawa & Pet Success Toronto gives free dog food every May 1st to Pet Service Workers & Students first appeared on Beauty Ring Magazine.