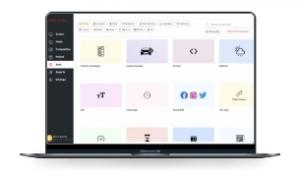 Pickcel Digital Signage Dashboard
Customized Content By Flekt Playing On Pickcel-Powered Tablets
Samsung Tabs with Digital Signage Functionality
Pickcel Empowers Flekt with Customized Cutting-Edge Digital Signage Solution for Salon Advertising Across a Network of 100+ Samsung Tablets
We are confident that our technology will enable Flekt to enhance brand visibility and deliver compelling & hassle-free experiences to its clients"
— Basudev Saha, Co-founder & CTO of Pickcel
NEW YORK CITY , NEW YORK, UNITED STATES , May 31, 2023/EINPresswire.com/ —
Pickcel Digital Signage, a leading provider of digital signage solutions, is thrilled to announce its partnership with Flekt, a new-age advertising company specializing in a hybrid ad distribution model where they display dynamic advertising content on tablets across various salons in Bangalore, including renowned names like Toni & Guy, Javed Habib, Hairmagix, Femina Flaunt, Naturals, Hair Speaks, etc. Flekt offers a unique advertising service by strategically placing tablets in salons, providing a captive audience for their clients' product advertisements. Leveraging Pickcel's cloud-based content management system, Flekt can now deliver captivating and targeted advertisements to engage salon-goers and drive targeted brand awareness.
"We are confident that our technology will enable Flekt to enhance brand visibility and deliver compelling & hassle-free experiences to its clients," said Basudev Saha, Co-founder & CTO of Pickcel.
The collaboration between Pickcel and Flekt ensures a seamless and easy experience for Flekt and its clients. Pickcel's advanced technology empowers Flekt to effortlessly display high-quality content on 100 tablets in about 30 salons across Bangalore, India. With a user-friendly interface and centralised content management system which can be accessed from anywhere, Pickcel offered a customized digital signage solution with features like sleep mode and locked device control in the console. Using Pickcel's technology, Flekt can easily update the displayed advertisements, ensuring the right message reaches the right audience at the right time.
The key features and benefits of the services include:
-Dynamic Advertising: Flekt can now showcase active and visually appealing advertisements on distributed tablets, creating an immersive brand experience for salon visitors. The engaging content captures attention and boosts brand recall.
-Real-time Updates: Flekt can easily update and manage content across multiple salons in real time. Whether promoting a new product, announcing a special offer, or modifying campaign details, Flekt has complete control over the displayed content, ensuring timely and relevant messaging.
-Sleep mode customization: Flekt needed the tablets to automatically enter sleep mode during non-operational hours, conserving power and extending the lifespan of the devices. In response to the client's request, Pickcel customized the solution to incorporate personalized sleep mode controls, allowing for a tailored configuration of the locked device control in the solution.
-Locked Device Control: Pickcel's technology provides the ability to safeguard the device, ensuring that the screens are not utilised for any other non-business activity i.e., not responsive to touch inputs such as attempts to close the tablet or press the back button.
-Network Analytics: Pickcel's robust analytics and reporting tools enable Flekt to track the performance of its advertising campaigns. Detailed insights into screens' active time and the frequency of content played can be configured easily. This will allow Flekt to optimize future campaigns and deliver maximum ROI to its clients.
About Pickcel:

Pickcel is a leading provider of digital signage solutions, offering a comprehensive platform that empowers businesses to create and manage captivating displays. Pickcel operates internationally in the MENA (Middle East and North Africa), North American and European markets, and is rapidly growing its presence in APAC, Australia, and New Zealand. Focusing on innovation and user-friendly interfaces, Pickcel enables organizations to engage their audience, enhance brand visibility, and drive meaningful interactions. With an excellent portfolio of more than 5500+ clients, the name is trusted by SMBs and multinational brands alike. Pickcel serves clients from all industries, including corporate, retail, transport, food service, hospitality, and healthcare.

Some of their clients are popular names like Etisalat, My Salon Suite, Hindustan Unilever, Cultfit, NEC, JW Marriott, Myntra, Decathlon, and Asian Paints.
Pickcel Contact
Pickcel Digital Signage
+1 916-659-6965
[email protected]
Visit us on social media:
Facebook
Twitter
LinkedIn
YouTube


Originally published at https://www.einpresswire.com/article/636810700/pickcel-revolutionizes-salon-advertising-with-advanced-customized-digital-signage-solution
The post Pickcel Revolutionizes Salon Advertising with Advanced & Customized Digital Signage Solution first appeared on Beauty Ring Magazine.