Updated Personal Preference game gets new life after 35 years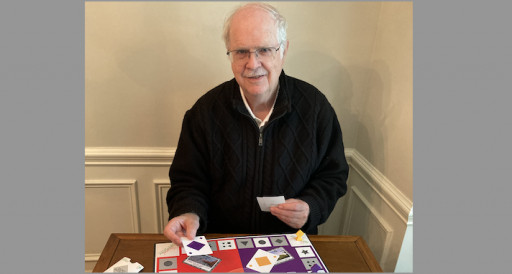 The Inventor with Personal Preference
Prof. Don Carlston with the new edition of his board game, Personal Preference
CHARLOTTE, N.C., May 30, 2023 (Newswire.com) - When Prof. Don Carlston's 1987 board game Personal Preference went out of print, after selling over 400,000 copies in the U.S. and Canada, he hoped it would be republished someday. He had a lot of ideas for updating, improving and expanding the game, if only the right opportunity came along. But he never guessed that that opportunity would arise 35 years later through the persistent efforts of devoted fans who kept playing the original game for decades.
A number of such fans contacted him regularly over the years about their interest in buying the rights to Personal Preference. Eventually Prof. Carlston proposed that instead, these previously unacquainted fans team up with him to produce a second edition themselves. A young entrepreneur from Toronto became the project director; her husband became the art director; an award-winning independent film director from Chicago joined in, as, for periods of time, did a film distributor from Great Britain, a former newspaperman from Alberta, and several Canadian cartoonists. As the project came together, an advisory team was created consisting of an additional 50 die-hard Personal Preference players who evaluated new game categories and played test games via Zoom. Finally, prototypes were made, and more than 233 supporters pledged an average of over $120 each on Kickstarter to finance production of the second edition of Personal Preference. Most ordered several games and expansion card packs, but some just donated their money.
"I'm just thrilled at the amount of enthusiasm there is for Personal Preference even after all these years," says Professor Carlston, "and by the generosity of people who have donated their time and money to updating the game." He added, "We've gotten notes and emails from so many people about their love for the game. For example, here's one from just a couple of days ago that says: 'I am a huge fan of board games -- I own more than 500. And the 1987 edition of Personal Preference is my favorite!' It's especially heart-warming that so many people who I really don't know, and still have not met in person, would show such devotion to the effort to republish this game. Personal Preference was designed to bring people together and help them get to know each other better. And it's ended up doing that in ways I never would have imagined, bringing together a diverse group of strangers with the goal of getting the second edition published!" With the Kickstarter ending on Wednesday, and the funding goal already reached, Personal Preference could finally be back in print within a matter of weeks and in people's hands by Christmas, after a wait of just 35 long years!
https://www.kickstarter.com/projects/personalpreference/personal-preference-updated-edition
Contact Information:
Don Carlston
CEO, Inventor
[email protected]
7657140256
Original Source:
Devoted Fans Reintroduce Out-of-Print Board Game
The post Devoted Fans Reintroduce Out-of-Print Board Game first appeared on RSVTV news.