Honey, of KanD Beagles, was awarded second place overall at the 2022 NBC National Specialty U.S. Beagle Nationals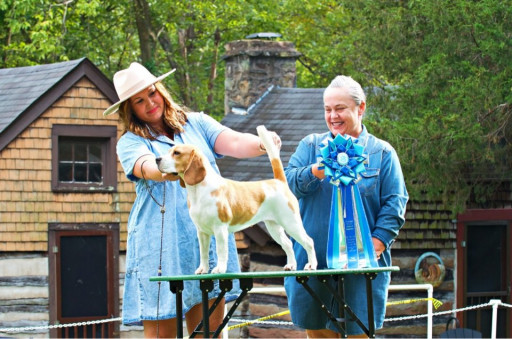 Honey of KanD Beagles Wins 2nd Place at 2022 NBC National Specialty U.S.
Photo: Lydia Joiner
WHITEWRIGHT, Texas - October 17, 2022 - (
Newswire.com
)
KanD Beagles, a 110-acre, Texas-based dog breeder, attended the 2022 NBC National Specialty U.S. Beagle Nationals with Honey. Honey is titled as a Grand Champion Silver, or GCHS.  Her win in this event effectively placed Honey at second place overall in the Beagle Championship. She was ranked in 2021 as 17 in the United States. The event took place from Sept. 24-28, at the Institute Farm, Aldie, Va.
Honey was entered in the Best Of Variety at the U.S. Beagle Nationals, winning Best of Opposite Specialty (BOSS), competing against over 200 Beagles from around the world. Honey finished the Championship in second place. Honey's dam owner and breeder is MerryLee's Kennel, and her sire owner is KanD Beagles. Laura Chamness was Honey's handler for this competition.
"We were proud to see Honey receive such an honor on a national stage," says Kim Goggins, one of KanD's founders and owners. "Our core values place the highest priority on raising beagles with the best of health, highest quality pedigrees, outstanding temperament with love and care. That produces what we've always described as, 'simply better beagles,' for our families."
All Beagle puppies are raised on their family farm KanD (Kim and Dennis) acres in Whitewright, Texas. KanD beagles are available for adoption nationwide. The breeder currently has two litters, comprised of three male and two female puppies born on June 2, 2022. 
Anyone interested in learning more about adopting a beagle with KanD or joining the waitlist for upcoming litters is encouraged to visit: https://www.kandbeagles.com/contact 
###
About KanD Beagles
KanD Beagles is a 110-acre family farmstead beagle breeder based in Whitewright, Texas. The team is part of the National Beagle Club and AKC's "Bred with H.E.A.R.T" program, which requires strict health measures, ongoing education, accountability and responsibility. They are committed to preserving the purebred beagle and doing so through raising the dogs in a loving and caring environment, nurturing excellent health, outstanding pedigrees and wonderful temperaments. 
KanD participates with the Beagle Freedom Project and Let Love Live Rescue, rescuing and fostering Beagles who did not have homes throughout North Texas. The organization also contributes to the local DFW Beagle Buddies Rescue and AMBRN, a National Relief Network. Their guiding principle is best encapsulated in this phrase: "This little pup didn't choose to come into this world; we decided for him. Our responsibility is to ensure they have a loving, caring home for their entire life."
Media Contact:
Sydney Birge | [email protected]
+1 972 674 9595
Contact Information:
Sydney Birge
Placement Coordinator
[email protected]
+1 972 674 9595
Press Release Service by
Newswire.com
Original Source:
KanD Beagle Places Second at US Beagle Nationals in Aldie, Virginia