GAT Sport is energized to announce the official release of its TESTROL® PLATINUM premium testosterone optimizer. This invigorating new Testrol Platinum formula has ingredients shown to increase total testosterone by up to 132%.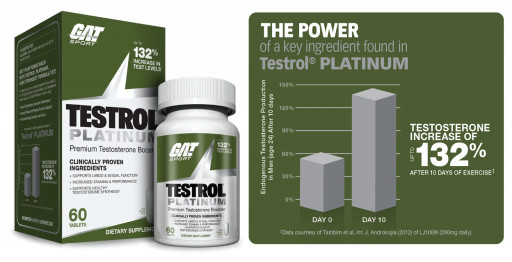 Testrol Platinum - Testosterone Booster
Testrol Platinum - Testosterone Booster
Monroe, CT - August 30, 2022 - (
Newswire.com
)
GAT Sport President and CEO Charles Moser made the announcement. "Our popular GAT Testrol®-branded products now have 15 years of consistently delivering premium testosterone boosting that motivates our customers. Our Testrol products are known worldwide as a unique fusion of Science and Nature, for Muscle and Male Performance. Our newest PLATINUM builds on highly scientific test optimization tech that GAT formulators have brought together for the first time designed to provide the proven increase of total testosterone by up to 132%. All that power, in convenient tablet form that helps Testrol Platinum men achieve their foremost male life. That's formidable."
New Testrol Platinum naturally increases a man's free and total testosterone to restore youthful, energetic vigor and revive that masculine feeling of domination. Our synergistic, custom Platinum formula contains supporting vitamins, minerals, and herbals.
Further, Testrol Platinum's Eucommia combined with Ulmoides Bark Extract is the perfect amplifier of male sex hormones. It's the novel phytoandrogen binding to and potentiating the androgen receptor. We also add LJ-100®, the top clinically-backed pro-testosterone ingredient recognized as a natural alternative to Testosterone Replacement Therapy*.
GAT Sport Testrol Platinum is readily stackable with other GAT products, a feature that GAT customers request and expect. Stack it with Nitraflex® Pre-Workouts, FLEXX EAAs

Intra-Workouts, GAT Essentials Vitamins & Minerals, and with GAT Jetfuel® thermogenic fat-burners to take full control of your health and fitness regimen.
Testrol Platinum augments the now-legendary TESTROL specialty product line including Testrol Original, Testrol Gold ES, and Testrol Elite, each of which along with the new Testrol Platinum address unique approaches to test boosting.
About GAT Sport
Charles Moser, President, and CEO, has well over 20 years' experience in training and supplementation formulation, design, and marketing. Under his leadership, GAT Sport creates edgy, forward-looking products that propel athletes worldwide and in the industry. Designing with clinically researched ingredients and university studies, he produces and markets clinically tested, efficaciously dosed formulas that become legendary. Moser is diversifying this highly respected global brand with high-energy workout products and those for repair and recovery after training, plus general health and fitness. He drives TeamGAT to compete harder every day and on every level. Follow Moser on Instagram @GAT_CEO_Charles_Moser.
facebook.com/gatsupplements 223.5k Followers
instagram.com/gatsupplements 184k Followers
twitter.com/gatsportusa 6.8k Followers
These statements have not been evaluated by the Food and Drug Administration. This product is not intended to diagnose, treat, cure or prevent any disease.
Press Release Service by
Newswire.com
Original Source:
GAT Sport Releases Its New Premium Testosterone Optimization Product, TESTROL® PLATINUM